2D Games are the most accepted and popular way of experiencing amusement, fun, and thrill as imagination is best captured with 2D gameplay. We are well equipped with both technology and creativity to deliver any game within the budget and stipulated period of time.(*Check our Freelancer Rating to verify)

We strive to provide supreme 3D game development services for Mobile, Web, and Console. Our team is fully capable to create high-quality games that provide a user-engaging and smooth experience to the end users. We make sure to keep the X-factor by doing multiple iterations and that too within budget and time constraints.(*Check our Freelancer Rating to verify).

We are developing some of the world's most astonishing VR (Virtual Reality) experiences. VR deliver such a breathtaking experience that takes you all together in a different world such as within the galaxy while standing in space, or experience of being lost in the dungeons. No wonder, with VR you can sure to have a fabulous experience. Get in touch to know more.

Digital Art is the enhanced graphical depiction of the game itself. A perfect Digital Art can make a user download and love the game instantly. It delivers the quick blinking message to the viewer that makes the user like or dislike the game. Digital Art is a must if you want to deliver a Wow feeling to the first impression of the game.

AR (Augmented Reality) is the true way of taking your games and utility apps to very next level. Stay ahead by asking, interacting and brainstorming with our AR experts and how Augmented Reality can add really awesome real-life experience to your App or Game.

The designing and animation of the game is the most contributing factor that delivers the actual fun of the game to a user. Your idea can only take off if the design deliver the same level of expectation as you had in your idea. Our creative team works together to bring along excellent design experience to your game. Designing with creativity is our way of style.
The Game Development Process at Ommzi
"A very professional team, who kept the project within budget and delivered on time. They kept an open line of communication throughout the project duration and stayed highly collaborative."

Chimzie Okonkwo

Co Founder @Mvanadium
"Ommzi is a home for very talented individuals. Great experience working with them.It's been amazing to work with Ommzi and I would highly recommend their services!"

Eric Torstensson

77 Click Games
"Superb job done by the Ommzi team! Work is just amazing as everyone will see when the game will be launched. The more I work with Mandeep the smoother the process gets. Cheers to the Ommzi team."

Andreas Nordenadler

Founder Battle Cow
"The Ommzi team has shown an awesome work of display! Very reliable and willing to devote extra effort to ensure product is developed as per the best standards and according to specifications."

Ali Asghari

Founder and CEO @ OfficeDive
"Mandeep is very honest, the team was very responsive. They even made changes when the project was about to come to an end as I wanted to modify several features! Satisfactory display of work."

Hoai Nam Nguyen

Founder at App Monkey
"Very good work ethic along with a keen desire to achieve the best product was applaudable! Great job done! Reliable and always willing to achieve the product which you desire for! 10/10."

Joni Pirovich

Founder & CEO @Token of Eight
"Mandeep and his team helped create a great mobile app for my company. He was great to work with and very professional. I especially appreciated his frequent communication. Thank you! "

Ron Perkins

Co Founder @SpotaGoGo
"Mandeep and his team were extremely kind and cooperative. Always responsive with great quality of Responses! They delivered a reasonable product and fixed major bugs with positive attitude."

Steven Wu

Managing Director @Media Hive
Ommzi – A Game Development Studio
As one big family, we work to achieve excellence!
Ommzi Solutions – the game development studio, sits strong in the market with an ardent team of passionate game developers who work enthusiastically to offer clients with best industry standard gaming solutions.
Ommzi constitutes a vibrant and adept team of proficient Concept/Game Designers, Graphic Designers, Digital Artists, 3D Modelers/Designers, 2D/3D Animators, Game Developers (Unity and Unreal), Server-Side Developers, PHP Developers, Quality Analysts, Android/iOS Developers,  Augmented Reality Developers and Virtual Reality Developers.
With 30+ successful games developed so far, we have produced some of the top games at the store. We extend our development services to all gaming platforms and master in curating an awe inspiring experience for your game concept.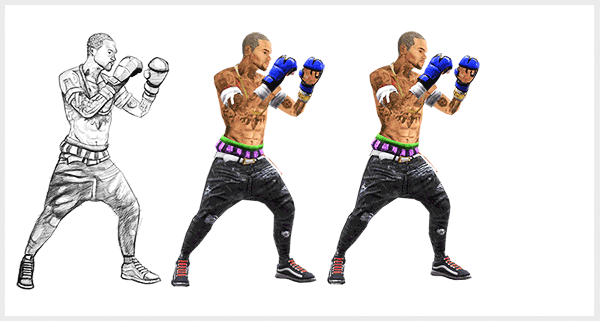 Recognized Game Development Company by