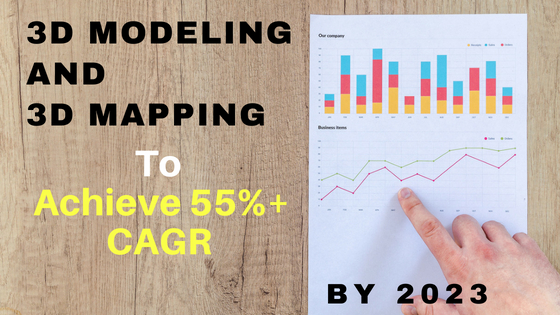 Both 3D modeling and 3D mapping are a must for each field today. Be it product manufacturer, design, advertisement, printing or any other field, all require 3D modeling and 3D mapping to  be a participant in various phases. The recent advancements and techniques make 3D modeling and 3D mapping more versatile and robust in analyzing the detailed schematics, thereby making the global market to boom and excel endlessly.
According to the recent market survey, it is estimated that the global 3D modeling and 3D mapping shall earn lot more revenues and profits by 2023. By  2018, the total revenue of animation industry is projected to reach 259 billion US Dollars and go up to 270 Billion Dollars by 2020. This advancement is obvious to improve the global markets and profits for various firms that use 3D modeling and 3D mapping in any form.
Why 3D Animation and 3D Mapping?
The growing demand for visual effects, 3D modeling, rendering, motion effects etc and high end animation in  fields like architecture, advertising, medical sciences and many more, brings an obvious tilt of businesses towards the animation industry. A good example of this is the game development companies that strive hard to bring the latest animation tools and techniques blended with perfection to the people. This is so because the demand and favoritism of gamers is more towards the games that look beautiful, strong and near real.
The well crafted 3D animation and 3D mapping services make the objects or entities stand apart. Here are a few reasons that forecast a great 3D future:
Better and in depth analysis

More attractive and fetches customer attention

Robust way to analyse even minute details

Cost effective
The Global 3D Modeling and 3D Mapping Players in the Market
Market is flooded with all types of tools to provide 3D services. But , the best and most reliable tools stand apart for their quality and performance. Here are a few of them that are proven leaders:
Adobe Systems

Corel Corp.

Autodesk Inc.

Toon Boom Animation Inc.

Electric Image

Maxon

Corastar

Magix

NewTek

NVIDIA Corp.

Smith Micro Software

GmbH

Side Effects Software
All these are the real big names that create ways to use and enhance 3D services. All the best tools are a product of either of these and are under continuous research and updations to create the future of animation.
America is Expected to Hold the Maximum Revenue
According to the analysis done on geographical basis, there are many regions in the world that will earn huge, but the maximum share shall remain with North America. The underlying reason for the same is that the maximum number of animation companies listed above come from North America and with the boom in 3D animation services, these are the leaders to profit the most.