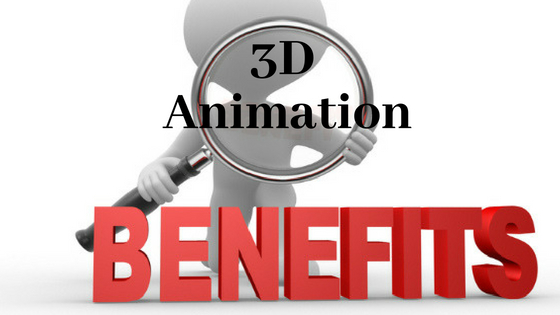 3D animation has emerged as a leading advertising and marketing tool today. It has become the main source of mass communication and information sharing by many organizations and individuals. Animation presents a product or an information in the most fascinating way that attracts people to pay attention.
An advertisement or a presentation made using 3D animation becomes more impressive and informative because the 3D animation shows the product in various angles, colors, sizes and in depth details. 3D animation caters almost all the types of products and businesses in various fields such as – medical sciences, all engineering domains, designing, construction, manufacturing etc.
10 Benefits Of 3D Animation In Your Business
As discussed earlier, 3D animation represents a product or an information in a way that attracts many viewers.The amazing animatronics by expert 3D animation company gives new life to marketing your product. Let's go though the benefits that are of great value.
Alluring Visual Effects:

 If you compare reading a story and viewing same story as a movie, which one would you prefer? Of course, the movie! This implies the same way to advertising world as well as presentation of any product or information. You can outsource 3D animation to popular 3D animation studio and get that fascinating visual effect added.

Attain a Brand Name:

Your product might be good, but until you show it to customers, there's no worth. 3D animation portrays the product details with visual and audio effects, that makes it more impressive. A classy presentation itself brings you a name that defines the level of your brand
Attract more Traffic Online:

These days, more and more people stick to the internet than television or newspaper. An attractive 3D animated video of your product can easily be shared on various platforms over the internet. This will help you get organic traffic as well as popularity
Cost Effective:

Getting a 3D animation video is a one time investment. You get it done once and use wherever you want. Also it saves a lot of time and money that would otherwise be wasted in any other form of designing or advertising
Your Partner in Research and Development as well as Testing:

Many businesses partner with a 3D animation studio since the very beginning of their product designing, development and testing. The 3D animators create a computer generated design as suggested by you and you can view its internal details and perform calculations on putting more refinement. As this is just a computer design, hence it can be easily iterated for modifications. This saves your time, resources and money in creating real dummies that are of no use later.
Reusability:

Unlike creating a physical dummy or prototype, the computer generated 3D designs can be reused and modified for each new change even after along time. This is very cost effective and time saving.
Perfect Precision View:

Well, have you ever seen the leg of your chair from inside? Never, even if you cut it out, you won't get anything out of it. But this is really required to test the strength, dimensions and tolerance of your chair while it is being designed. A 3D animation helps the product designers to take a precision tour of the product and determine the areas of betterment.
Fetch more business:

With a 3D animation product presentation, you get an add on to impress your clients and make them get in touch with you. Also, good presentation is the key to widespread marketing.
Get Higher Quality Final Product:

 If you design using 3D animation, you are sure to get a better quality product. While in the R&D and designing phase, the 3D animation allows you to have precision calculations that help in creating a robust product.
Suitable for all:

Whether you are a production, manufacturing, designing, film making,  scientific, medical or any other organization, you can always benefit from 3D animation in creating real like products and test them for performance, without any hassle.
Where and How is 3D Animation used
When you want to grow with 3D animation services, you are sure to win.The 3D animators handicraft products and characters that are near real life. Just a thin line differentiates between real and animated characters. The smart animation techniques that make any product smooth, glossy and tempting are actually the creativity of 3D animators or artists.
If you visualize any advertisement or a video clip, you can clearly notice that there are a lot of video and audio effects that make viewers to fall in love with it. Many online sellers use 3D animation to attract customers as they can have a view of the product from all angles.
Here are a few of the fields that use 3D animation to excel and go aloft
Advertising:

The field of advertising is the most preferred medium for mass communication. The 3D animators create entities that give a new and mesmerizing look to the product. The free flowing liquids, the beautiful flying flowers, the ambient locations, the fine gestures and many other effects are added by animation to make the advertisements attractive.

Architecture Engineering:

The beautiful building designs and patterns are all made using 3D animation. As an advantage, the engineers can easily determine the design and other rigorous calculations to ensure strength and quality. The design created by 3D animation gives a clear view of what the building will look like after completion.
Mechanical and Automobile Engineering:

Manufacturing machines and automobiles is a task of serious responsibility. A minor fault can lead to major accidents. 3D animation is very helpful in designing even the most precise parts and testing their scope. This saves a lot of money that would have been used while creating dummies at the time of designing.
Game Development and Designing:

Gaming is a part and parcel of every one's life these days. The most fascinating game plays are a result of fine and creative 3D animation studio.
Healthcare Industry:

For everyone of us, health comes first and in order to maintain it, we all need best healthcare services that are updated and robust. The healthcare industry uses 3D animation on large scale to view internal organ functionalities and diseases. Not only this, they use animation to understand and research various surgeries, impact of medicines and other future prospects.
A few tools that are the main contributors to performing 3D animation are:
AutoCAD

ZBrush

SketchUp

Blender

Sculptris

3D's Max

Revit and many more.
Conclusion
The 3D animation is a robust tool for making your business reach the skies. The well structured 3D animation studios such as Ommzi are continuously updating their skills and focusing on exploring new future prospects. The 3D animation is a creativity at another level that extends to almost all the fields today.
If you have not yet adapted with 3D animation, then get ready and gear up to get it for your business to SAVE MORE & EARN MORE!