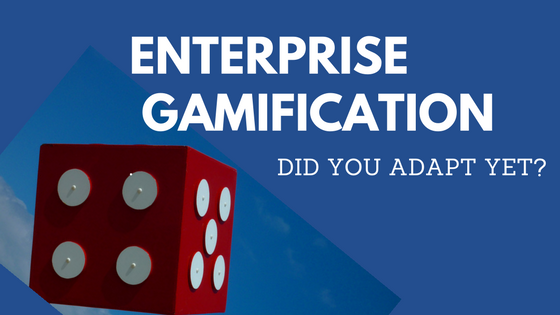 Enterprise gamification is a concept that applies the principles of game design into the non gaming business environment. As the games provide you with fun and reluctance to go back and play games, so the enterprise gamification aims at adding fun filled working environment for a company's employees and attract its customers to come back and work again. The gamification process of an enterprise should definitely use an approach that motivates the employees to work and make a company to get closer to its clients, thus achieving the business goals.
An example to understand Enterprise Gamification
For a layman or a business organisation, we put an example to make you understand this basic concept with ease. Say, if there is a business organisation that has its employees for each department and clients who get their services.
The gamification process aims at putting up a work culture that boosts employees to work with dedication and also attracts more and more customers to ultimately profit your business. This needs to include a goal with attractive goodies for employees such as perks, bonus, leaderboards, points, badges, performance feedback and levels that enhances productivity and reduces the time.
Now, if you consider a game, it has a player(same as an employee in business) and a target(goal of business). The player knows that it has to reach the target and if the gaming scene contains badges, points, boost ups, power etc, then the player gets more involved in achieving the target at its best record. A motivated and curious player would want to go back and happily play a higher and a difficult level.
This is what exactly the enterprise gamification means. As a game development company looks into making a game more attractive, so a business need to engage its employees and customers to stay connected.
Enterprise Gamification Trends 2018
The gamification process first evolved in 2008 and gained popularity in 2010. Since then, there remained a consistent hype among companies to simply jump in and adapt to this new concept. Now, when its 2018, this hype has almost ended and the gamification has gained its mature state. The recent trends show that more educated and planned gamification processes are in place to deal with aspects technically and involving all the stakeholders in a business.
Here's a list of gamification prospects in 2018:
Gamification in HR:

As a traditional human resource process, the HR basically deals with recruitment and employee trainings. The gamification will make the HR to focus on investing into welfare of employees and making the work culture more refreshing and enjoyable.  

Gamification in Marketing:

Marketing is the key player in enhancing business profits and opportunities. With its gamification, the marketing will focus more on brand loyalty  and better customer engagement. Customized marketing gamification process is the need of present time.

Gamification in Mobile Technology and Social Media:

The mobile and social media business has maximum of its audiences in Asia and Africa with a fact that these are the most populated parts. Today, everyone is using 4G and eagerly waiting for 5G to arrive and enjoy the fastest speed ever. All the mobile users interact with numerous applications to shop, pay, learn, enjoy etc. The gamification of these will attract more users to your business.

Gamification in Artificial Intelligence:

The AI is the upcoming boom. AI and machine learning is in its tender state and implementing gamification to it might be a bit costly deal, but will relish fruitful results in near future.

Gamification in Augmented Reality:

The enchanting AR is slowly replacing VR. Its gamification will yield great future prospects.
Conclusion:
Its true that each well tailored  technology comes and hits with a boom. The enterprise gamification has already benefited many in its early stages and all set to give a future of well laid process strategies. It's always advisable to adapt before you loose. A good example of this is Ommzi, a game development company that did its gamification and is earning numerous clients each day.  So, it's important for all the business organizations to understand and implement this as the need of the hour.