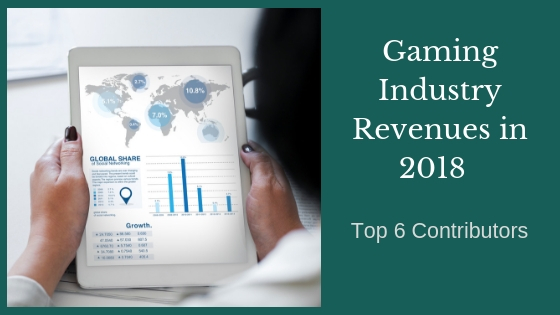 The thriving gaming industry is continuously flourishing and adding participants each second. With awe inspiring game genres and user friendly experience, more and more people are getting attracted towards gaming. Recently, it has been estimated that the gaming market will reach a booming $138 Billion in 2018, with an increase of 14% from the previous year.
Does this credit go to game development studios? Well, yes! If we see the minds behind understanding the user scenario, finalizing a concept and story-line and then finally doing justice in game development process is what makes it a hit.
Let's now take a walk-through to the various progressive areas and regions in gaming industry throughout the world.
Gaming industry – Top 6 contributors
It is worth applauding that the gaming industry has a global religion of passion and mania, which is the single driving force that indulges people into gaming. Here are a few factors that add to the theory of gaming evolution in recent years
Number 6 – UK:

UK stands at number 6 in the world, where the gaming Industry is an estimated

4.4 Billion Dollar

business and adds a lot to the UK economy. In terms of gaming, according to a report, there are around

2,261 active game companies

in UK itself. One major aspect that makes UK gaming to add so much to its economy is the benefit of '

Tax Incentives

'. In 2014, UK started giving

tax relief

on games developed under a certain title criteria such as – the game must be developed in Britain and should pass a 'cultural test' that certifies the game as a 'British game'.

Number 5 – Germany:

Germany stands at number 5 with an approximate of

4.6 Billion Dollar

revenues in 2018.The free to play games are generally more popular in Germany  and people love to explore new titles for the same. A good proportion of these gamers even buy a paid version, if they find an interesting game.

Number 4 – South Korea:

With a ranking of number 4, South Korea has a higher portion of  PC game lovers, followed by mobile game players. The most interesting part about gaming in South Korea is that, there is a huge number of

professional gamers

, who play to win the prize money. Such players manage to earn around

USD 40,000 to USD 105,000 a year, making gaming a profession too often. With professional players adding, South  Korea earns a gaming revenue of around

5.6 Billion Dollar.
Number 3 – Japan:

At

number 3,

Japan's gaming industry is a whooping

19.2 Billion Dollar

business. With

the 2 strongest video game console systems – Sony

PlayStation

and

Nintendo

line of systems coming from Japan, it captures the Eastern gaming market. The gamers in Japan are players since history and enjoy a blend of both old and latest games.

Number 2 – US:

As the second major contributor, United states has a revenue of approximately

30.4 Billion Dollar

from the gaming industry.

More than half of the teenagers in US play

video games for long hours

and find it cheaper than watching television or movies. Also, the gamers in US spend a lot on buying gaming accessories and gadgets. NPD reported that the US customers have already spend an approximate of

$37.9 Billion on buying gaming hardware

and accessories in first half of year 2018. This is an increase of 40% from the previous year.

Number 1 – China:

Taking the top position, China has an gaming revenue of about

37.9 Billion Dollar

with around

600 million active gamers.

Not just this, the online gaming market in China raises around 15% each year.  
These are some important facts, that add to the gaming industry's growth:
Smartphones:

Since a decade, the smartphones have swiftly entered the gaming world and become the major contributors. As a handy gaming device, a smartphone is the first and the most widely used gaming device. According to an estimate by Newzoo, mobile games will be a

100 Billion Dollar

market by 2021 and both mobile and tablet will contribute to 59% of the total gaming industry revenue.
The growing Esports industry:

Esports is emerging as a single standalone gaming platform that fetches around

300 million people

throughout the world to tune in to eSports and is estimated to reach around

$900 million

in 2018

. By 2020,its expected that this number will reach closer to 500 million

people.
India:

Though, India ranks at number 16 in the global ranking for gaming revenues, but the progress rate of Indian gaming market is increasing steadily. Today,  India has a total of

1.1 Billion Dollar

revenue from its gaming industry. With increasing approach for

game development outsourcing

in India and increasing number of gamers each year, India is projected to reach a good position by 2020. The world today looks towards India as the first choice for its game development outsourcing needs.
A smart game development company today is continuously improving and generating great user experiences. A lot is also expected from Augmented Reality game development in the world of science and technology. Whereas, Virtual Reality game development still remains a leader in helping people explore the virtual world. Well, this is the scenario in the year 2018 and we expect a lot new and emerging technologies to be a part of the growth chart by 2020.