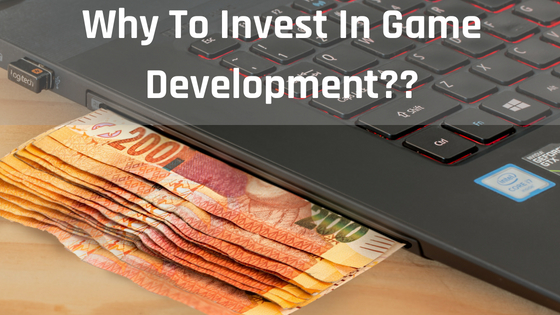 Game Development is an entire field in itself. No one ever thought that it would grow so much and create its own identity. There are numerous games that are developed and released every day without any idea on their fate. Some games go missing in days after release, some stay a longer time, some are never known if they existed and some die before they are released.  
The ultimate success of a game depends upon many factors that begin from mere idea of the game to its deployment. Great earnings, popularity and customer retention are a few things that determine the prosperity of a game.
Before you Invest in Game Development – look here
You may own a big empire and have lot of revenues or a may be a common man with very less revenues and want to get a game developed, but in both the cases your success cannot be determined on money itself. A strong planning and execution is necessary to give it the right way.  The following are a few aspects that are very important to be considered before you give your money
Analyse your game plan thoroughly to determine if it is feasible and innovative

You must acquire basic knowledge in getting your game developed

Determine the actual cost to develop the game

Choose a team that has taste of years and is well versed with all the recent tools

Check the track record of the team you hire as well as their goodwill in the market

Take active participation in game development process

Plan a proper marketing strategy well in time
How to Invest in Game Development – the ways
Nowadays, many game development companies invite you to invest in the game development as a shareholder and earn profits later on. This is a booming trend that is giving great earnings, revenues and profits.
Be a shareholder in the most famous game:

First of all, you need to analyze the most famous games and then opt the one in which you want to invest. This is the most reliable way to invest as it is sure of giving you higher and continuous returns as a shareholder.

Invest in any game:

If you are not interested in an already famous game, you can still invest in a game which you analyze to be worth. This will be much affordable than a big game, but will  not be a sure form of returns.

Invest in a new game idea:

 This is also a way adopted by game development companies to raise funds and go on with the game development process. Once such a game is developed and deployed, you are entitled to get your share of profits. This method has some risk as the profits depend upon the success of the game.

Invest in your own game idea:

Many people who have  a great gaming idea start to invest in their own game by either developing it themselves or by outsourcing game development company.
Why Invest in Game Development – benefits to you
There is always a risk that revolves around investments and returns. When you invest in game development, there is an obvious chance that you may either earn or loose. But the companies or partners in such investments ensure your return first and then look for their shares.
Booming market:

It is estimated that the game players all over the world shall spend around $139.7 Billion in 2018. So, there is a higher probability that you can earn great revenues.

Grows each day:

There are numerous new gamers entering the gaming world each day. Almost all download a new game, where some spend money on paid games and power ups too. This is really a great going industry that earns and grows each day, each month and each year.

Mobile gaming is the strongest pillar:

Today, everyone owns a mobile and each mobile is a handy gaming device that is easily accessible anywhere and anytime. Almost every mobile owner downloads games to the mobile device and enjoy gaming. As the number of mobile phone users is increasing, so is the gaming industry flourishing. On an average, almost 80% of total gaming industry revenues come from mobile phones. This is also the best platform to invest in for the game development.

Unending Industry:

Since the time of gaming evolution, it has covered a long distance in short time. With wide areas of scope and gearing up technologies like AR and VR, the world is awaiting a revolution in gaming industry. If you invest in a well planned game plan, then you have lot of future scope to earn.

Digitization:

The latest games are a product of smart technology and well structured process. Since a last few years, the gaming industry is adapting quickly to new vertices in gaming. This keeps the gamers more attracted and interested in gaming throughout. Digitization has of course added more revenues and will continue to pour in the gaming industry.

Wider scope:

Gone are the days , when people used to buy games from the market and play. This was not much popular as people had to spend on buying a playstation and the game to start the fun. But now, the scenario has changed as the games are freely available on multiple platforms, especially the mobile, so there is a much bigger market coverage.

Quick and revised versions:

During the earlier days of gaming, people had to wait a longer time for a bug to get fixed and the game to introduce something new. Today, the bug fixing is super quick and there is a revised edition to keep players intact. This makes the game more reliable in the long run to earn great profits



User friendly games:

This is the most important aspect while developing a game. The

game developers

try hard to keep game easy and user friendly, which obviously attracts more people and even more revenues.
Conclusion:
Gaming is a continuous process and has a much wider scope in near future. If you are planning to invest in game development, then be cautious of where and how to invest. Once you invest with a right game, you are sure to earn huge revenues.