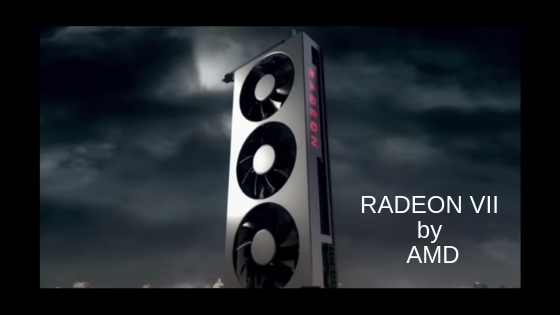 Available Date: 7th February, 2019
Price: $699
Performance: 25% more performance at same power
Specifications:
60 compute units

3840 stream processors running at up to 1.8GHz

1800 MHz boost clock

13.2B transistor count

Vega20 GPU

16GB of ultra fast HBM2 memory

1 TB/s memory bandwidth

4,096-bit memory interface
Gaming, the passion of over hundred million gamers has now become the mainstream of entertainment. People of all ages are deeply passionate about their favorite games and want everything to be better and better be it the game play, graphics, power ups or the assets.
Recently, DR. Lisa SU, President & CEO AMD announced world's first 7nm GPU – AMD Radeon VII at CES 2019.
The Radeon VII GPU is a new power packed performer for both the game developers and the gamers while featuring 4K gaming. It incorporates a high end blend of technology that makes it faster and better for 3D rendering and video editing applications as compared to the AMD Radeon RX Vega 64 with
27% better performance while using Blender,

27% better performance while using DaVinci Resolve 15,

29% better performance while using Adobe Premier and

62% better performance while using Open CL.
Also, it ensures better performance metrics for gamers too, with
25% boost in performance while playing Fortnite

35% boost in performance while playing Battlefield V

42% boost in performance while playing Strange Brigade
In addition to this, AMD also introduced the AMD Radeon software that provides instant game driver support and quick game optimizations up-to-a-minute for performance enhancements. Now, the gamers can easily share their amazing gameplay moments by capturing and streaming them at Radeon ReLive  – the monitor performance systems.
Finally, the great deal as an introductory offer that comes along is a happy gamers deal. Yes, you get 3 games –  Resident Evil 2, Devil May Cry 5, and The Division 2  with Radeon VII graphics card purchase.