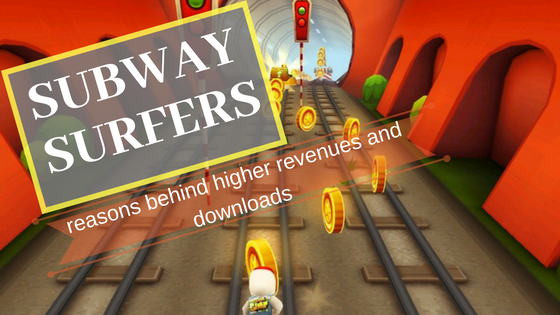 Subway Surfers is one of the most liked mobile game since its launch on 24 May 2012, and continues to be an all time favorite. This endless runner mobile game was first of its kind back in 2012 to attract more people with its simplified game and creative characters.
The teenage hooligan characters of the game run infinitely on the trains and the tracks collecting coins, powers, badges etc. The game play keeps on increasing its pace and making an escape more competitive. The only end of the game is when the character collides with an approaching train after missing a timely shift in track.
Recently in April 2018, the Subway Surfers became first Android game to cross 1 Billion Dollar Downloads. This is a big number that depicts the favoritism of this game among players. On an average, there are around 130 million people who play Subway Surfers each month. Among the top 10 grossing mobile games, Subway Surfers is the most liked for all platforms.
The question that strikes is what makes it so popular? Let's explore the below mentioned points to know the facts behind.
Subway Surfers- a unique game plan
There is always an edge on unique ideas that makes the game go viral with a well blended marketing strategy. A unique idea such as Subway Surfers makes people enjoy more and brings in a new trend. Boredom will always indulge people, hence people are in continuous search of something new, unique and entertaining. Subway Surfers comes with unique idea of endless runner that makes it entertaining as well as addictive.
Subway Surfers- highly responsive
This infinite runner game needs the player to be quick and highly responsive. There is very little window of response time because of which the player needs to stay attentive, thus indulging the user to focus continuously. Efforts of user are very less and player just needs to tap in order to play the game. The combination of simple tap and attentiveness is what gives a lite yet entertaining experience.
Subway Surfers- an endless runner
The train tracks in the game are virtually infinite and give the player an adventurous time. The player has to keep the game character running and collecting coins, thus saving from any accident. This keeps player involved in game for a longer time and as long as player wishes to because its an infinite track that will never end.
Subway Surfers- explore new destinations
Each version of Subway Surfers has the theme of some destination in the world. This gives a chance to the players to look and enjoy the cultures and landscapes of that destination virtually. Since its version 1.6 in 2013, all the succeeding versions come with new destination thus adding curiosity and excitement among its players. From 2013 to April 2018, Subway Surfers has covered around 81 destinations around the world with Paris and Tokyo as the most revisited themes.
Subway Surfers- faster and thrilling with no speedometers
Subway Surfers characters run faster infinitely, but there is nothing to measure the speed. As the game progresses, the speed of the character increases, thus adding more fun and excitement without any measure. The missing speedometer is an advantage that does not distract players and keep them focused. If measured in real time, the Subway Surfers character runs roughly around 150 kilometers per hour. Isn't this trilling?
Subway Surfers- amazing power ups and upgrades
Now this is what keeps the gaming excitement intact. Subway Surfers offers mesmerizing power up such as – coin magnets, jet packs, super sneakers, power jumper, 2X multiplier and many more. All these and many other premium power ups have come along numerous versions and stayed as favorites. Players target getting these and enjoy the gaming scenario thereafter.
Subway Surfers- creative characters
With each new version and destination, there is a new character too. The main character in the game play is designed aesthetically that looks active and fresh. Besides free characters, there are some locked characters that can be unlocked after meeting certain criteria in the game.
Subway Surfers- super lite for kids
As an endless runner game with simplicity, this is light for kids too. The game does not contain any feature that could harm a child's psychology. There is a simple run on the trains to fetch coins and if there is a collision, the game ends with no blood or injury in the scene. It's simple and calm and promotes the development of child's motor skills.
To Wrap Up
The individual choices for the game may vary, but what is worth noticing is the charm that this game carries to attract people each time. The Subway Surfers game continues to add thrill and adventure while keeping it simple and cool. Such a game can always be your partner for passing time, entertainment, refreshment and without any reason too.