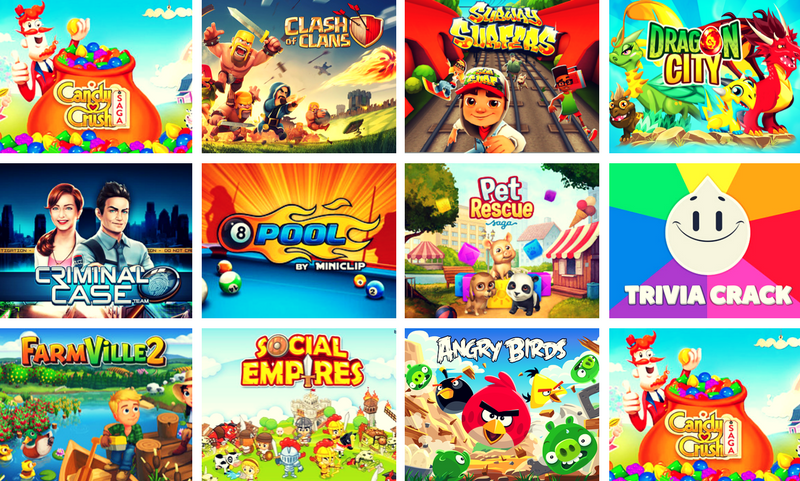 Over the years, games have evolved and emerged to found a new identity with Facebook. With each passing day, Facebook is counting increasing number of users and being the world leader in social networking websites, it capitalizes on its user base by offering them a whole lot of online interactive games through their platform.
Apart from sharing photos, videos, live feature you can also be spoilt with an unlimited number of games on Facebook. Certainly, Facebook offers an extensive range of games from various genres which will never let you feel bored whether it's casual, casino, puzzle, battle or simulation games. Now, we can say why Facebook game development is booming these days. So, today we are here to help you find the ideal game of your choice. Let's take a quick roundup of the most popular Facebook games of 2017:
Candy Crush Saga:

With more than 50 million users per month, Candy Crush Saga rated as the most popular Facebook game and application. With more than 30 Dreamworld levels, the user finds the game extremely easy to play and can enjoy free levels after which they are required to make the payment or send requests to Facebook friends to unlock further lives. As a Facebook user, you can play this game on all mobile operating systems – Android, iOS and Windows.

Clash of Clans:

The game is available to download on iOS and Android platforms. The game lets you fulfill your dreams to create buildings along with building an entire battalion of warriors and wizards. So, you can get into action with other online players in the legendary combat. But, the fun begins when you have the freedom to choose your characters and build your village into a battalion of soldiers, barbarians, wizards, and dragons.

Subway Surfer:

With an average of 10 million users per month, Subway Surfer being an adventure game lets you run as fast as possible along the subway escaping the approaching train while assisting the animated characters – Jake and Trash, Tricky to dodge the irritable inspector and his dog. The vibrant and colorful visuals in HD keep each player engaged. It lets you surf with hoverboards, allow you access jetpack powered by paint, challenge your FB friends and much more.

Dragon City:

The

Dragon City game has 10 million users each month and it is certainly a super thrilling game that keeps you hooked by helping you to make your own dragons and a captivating world of magical landscape. You can fight your Facebook friends with the help of a Dragon squad and have endless fun in a fairytale set up while you create an amazing dragon moving up the level.

Criminal Case:

With a monthly user base of 10 million, the Criminal case is amongst the most popular Facebook games that make solving complicated crime cases compelling. The player acts as a police officer while they are allocated diverse tasks which require the player to hunt down the criminal with the available hidden clues.                                                             

 
8 Ball Pool:

This game is the most popular online pool game available to play free and belongs to the sports genre. It offers simple to understand rules and WOW animations that make it the best online pool game till now. Developed by Miniclip, this virtual pool game has dedicated players for a long period of time. The game can be played on iOS and Android platforms.

Pet Rescue Saga:

This is another popular Facebook game of Match 3 and casual genre that require you to match similar color blocks to move to the next level and then saving the pets from evil wicked pet thieves. You have to achieve this in a limited number of moves and create a strategy prudently. The game is pretty much close the Candy Crush Saga which requires you to match and switch the blocks. Pet Rescue Saga is also available to download on Android and iOS platforms.

Trivia Crack:

It is a quiz game that allows you challenge other players or friends while it sharpens your knowledge at the same time. It offers 6 different sections – Sports, Technology, Science, Arts and Literature, entertainment and history and geography. This fun to play Game is also available for iOS and Android as well.

Farmville 2:

With 5 million monthly users, this free to play farming game allow you make your own flourishing farm by letting you harvest delicate crops, raise cute animals and prepare finger-licking delicacies. The second version of Farmville offers improved graphics and animations with the same earlier concept. Besides Facebook, the game is also available to play on all the mobile platforms.

Social Empires:

It is a simulation-based strategy game quite similar to the 'Clash of Clans' and has over 6 million monthly users on Facebook. The game lets you create your own empire and convert into a legend. Heroic adventures, championships, and wars with other online players put your ability to the test.