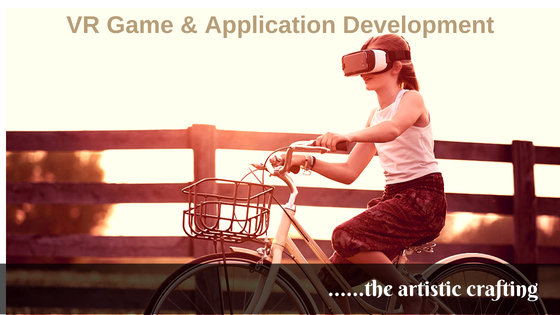 Virtual Reality is generally termed as a gaming technology by many, whereas others often remain confused on what it is. The use and usefulness of Virtual Reality is an astounding field with wide areas of its interactive application.
The first impressions of VR use can be dated back to 1860's. The Virtual Reality has existed since long, but got popularity in recent few years when the technological advancements made Virtual world more powerful and interesting.
Since its evolution, the VR industry has now reached a multi Billion business industry. Almost all the fields today use or are preparing to use VR as their main tool. Today, almost all top notch streams and businesses  including films, medical sciences, gaming, military training, flight simulations etc. have adapted to VR
But, do you know how does a VR application reach us? Lets understand the journey of a VR application from scratch to our hands
The VR application concept – ideas and requirements
Creating any application is a strict process driven approach that follows a set of protocols to accomplish the tasks. Because VR is a virtual world that takes people along to experience almost real like situations, the businesses and trainings have started to use VR applications in achieving an almost real like feel.
A few basic steps that are followed in finalizing the application concept:
Every stream has a different requirement and based on their requirements, they opt for the functionalities required.

Next, they determine the platform they want their application to run on, according to the end user of their app.

Finally, they look for a good VR application development partner to outsource.
The VR application development – Gaming and non gaming apps
Developing a VR application requires the collaboration of both designers and developers. We at Ommzi have a smart team of developers and designers, who are well versed in latest tools and techniques. We work in various technologies including Unity and Unreal to create the most immersive VR experience.
5 basic steps in development process are:
Decide a perfect tool for application or game development according to the VR Device that the application targets.(Unity is a great tool for awesome applications)

Make a 2D sketch of the scene/character/entity

Design the 3D scene/character/entity to make it look realistic and attractive

Code according to the functionality by including the SDK/SDKs for the VR Device the application is targeted for

Test the application to keep it up to the mark
These 5 steps are not as simple as they seem to be. Creating any gaming or  non gaming application in VR requires the following adept skill set and perfection to create a well curated application.
Coding skills:

In depth knowledge of programming languages- Java and C# is a required skill for developing Vr applications and games.

Backend:

The applications are divided into 2 parts, the front end- where the user interacts and the backend – that stores data for front end. Backend is to be created using various database tools according to their compatibility with the front end.

Hands on 3D tools:

Unity and Unreal are the two 3D tools that are a must to create a VR application.

Platforms for the VR application:

Before starting to code, a developer needs to know that on what all platforms will the application run. The most common platforms are – Mobile(Android, iOS), PC, PlayStation, Facebook, Web etc.

VR Device SDKs:

There are numerous VR devices(Oculus Rift, Google Cardboard, Samsung Gear VR etc.) available in the market and coding the application for any or all of these requires to work on its SDK(software development kit). A proficient developer can code for various SDKs swiftly to incorporate the application functionality.

Integrating sound:

For an immersive VR experience, the sound plays a vital role. Audio effects, audio location, background music etc are integrated with great care and precision. For example – if a VR application shows a nature's trail, then each sound such as chirping of birds, howling owls, river flowing, crackling dried leaves etc. have to be put with great care to keep it natural and near real.

UI/UX for VR:

The User Interface and User Experience are the key to creating great VR applications. The challenging aspect of Vr application development is to create a User Experience that is natural and equally thrilling. Color design, motion design and interaction design are the areas where the developers and the designers pour in the maximum of their effort and talent. A real immersive VR application is the one that is a storyteller and  makes users to simply go and use the application without prior training.
The VR application – into our hands
After successful completion and rigorous testing of the VR application, it is uploaded to the application store or made available at the dedicated platform. The users can then access the application and enjoy the VR bliss through a VR device.
So, the basic requirement for users to enjoy the VR world is –  VR application compatible VR device and the VR application itself. There are  numerous VR accessories for every VR device available in the market that you can buy to enjoy the VR experience even more.
Checkout the Best VR devices in 2018
The Inference:
Virtual reality is much more than what we think. Its a virtual world near the real world, that can take you to an enchanting and thrilling experience. The VR industry is continuously growing while stretching its boundaries. The most alluring VR applications are a gift of expert VR Designers and Developers. It's important for you to hire VR developers who are adept enough to adapt to the present and upcoming VR technology.