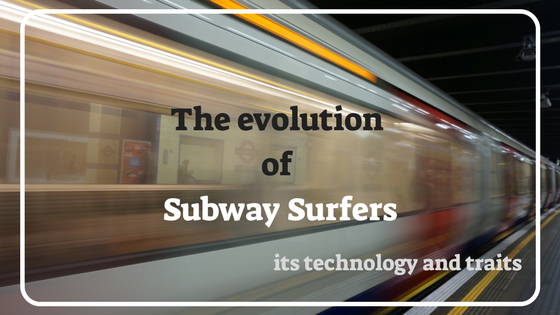 Subway Surfers, the game that has created history with over 1 Billion downloads on Google play is simple and attractive. The Subway Surfers was first launched in May 2012 as a 3D infinite runner game. Since then it kept on gaining popularity and winning the hearts with its effortless yet engaging game play. Today, It ranks higher among the top 10  grossing mobile games in terms of revenues and downloads.
The Evolution
The endless runner Subway Surfers game was co developed by Sybo and Kiloo games development companies in Denmark. Initially, Sybo with a partner made a short animated film on Graffiti that boosted the idea of a game.
Later, Sybo pursued the idea of this game with Kiloo. While an initial analysis on swipe was being done, the team came across Temple Run(not much known at that time), which gave the final direction to the Subway Surfers game and its features. Hence, this astounding game evolved as a concept yet to be implemented.
The Development
After analysing and deciding upon the game plan, it was time for both Kiloo and Sybo teams to start working.
The team at Kiloo started with social framework, GUI and metagames while adding a lot of effort and energy into making it. Meanwhile, the Sybo team started with the prototypes. They considered Unity 3D as the main development tool for Subway Surfers with a fact that Unity proved to be a great tool in terms of pipeline. It made artists to easily implement their creative artwork into the game.
The Kiloo team worked on the user interface part which included coding UI, special features and backend of the game. Whereas, Sybo team handcrafted all the artwork. Simply saying, the work before you tap 'play' is Kiloo's work and after you tap  'play' is Sybo's work.
The various development phases included:
Game theme and story design

–  This was the first and foremost step that was  considered to decide that what the game will do and how it would look – 2D or 3D.

Game art designing

– This was a creative part that was worked upon in designing the game scenes and characters. The crafted character Jake, rail tracks, subway trains, coins, powers ups and all other things that you view in the game was a part of this phase. The character rigging was done before animation as the character was supposed to run faster immediately as the user would tap the 'play' option. Not just this, deciding upon audio effects and its incorporation was also a part of this phase, which proved to add that extra charm to various hits and misses in the game. After completion of all this, the programming team was handed over the charge of making all the objects interactive.

Programming

– As the main tool was Unity, therefore, the coding was done either in C# or JavaScript. Each element in Subway Surfers was made to be highly responsive and quick. The developers took extra care in making the game smooth and user friendly.

Testing and Deployment –

 After rigorous sessions of testing each aspect of the game and attaining satisfaction, the Subway Surfers game was finally launched. Initially it came only for the android platform and later released to others too.
The Story thereafter
After initial release, the game became a favorite of many and got many downloads to rank higher. But, this success started deteriorating as users were facing issues in responsiveness while there were turns on the track. Kiloo immediately fixed this and released an updated version.
Later, in January 2013, Subway Surfers was released  with a new theme of 'New York' city. This added curiosity and excitement among people and again the popularity graph of Subway Surfers grew. Since then and till now the game came with numerous destinations around the world as its theme, new impressive characters, gifts, power ups, badges and many more for every new release.
There are many reasons behind higher revenues and downloads of Subway Surfers that are of course very interesting to know.
The expert creativity and smarter game updations made Sybo and kiloo game a big hit of the century by creating a history of over 1 Billion downloads at Google Play store.
Conclusion:
The Subway Surfers game is a big hit due to the reason that this game considered simplicity and ease of usability as its priority. Many  game development companies have tried to create such games, but could not compete Subway Surfers as they focused more on design than user friendliness. A good game development company shall always consider the target audience and adapt according to their choices.